Name: From-Russia-with-Bride
Online dating agency description: Russian women in our Online Dating Agency. More 25000 profiles of russian brides for marriage, friendship or flirt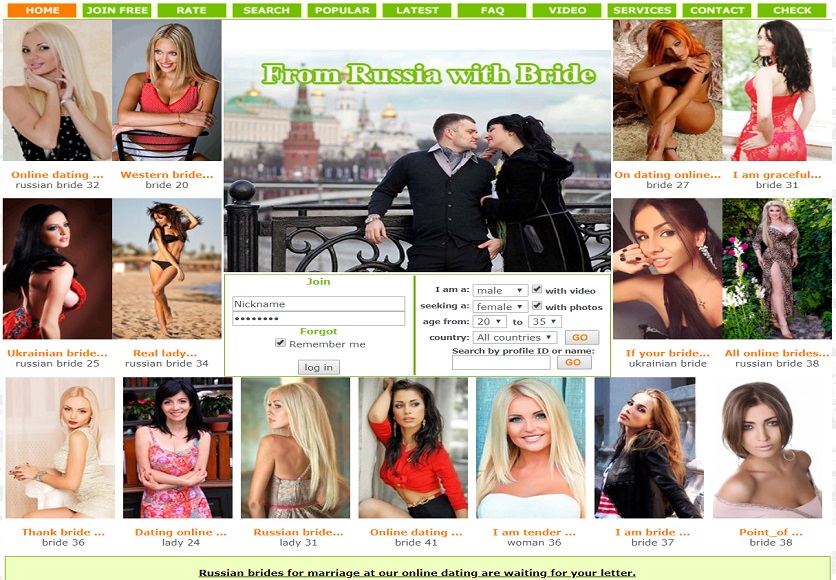 They hide the address?
We know they are from:, , , . Country:USA
Do they hide the contact phone number?
1-866-974-6453
Our users have indicated their status is:
WhiteList
On our Data Base from:
2007-06-27
Rating:
Rated:1894 Votes:473
Our users reported:
Costumer service excelent. The problem are the women, very nice when you pay for letters and when you write them using personal email, few emails later they vanish. I assume fake profiles are about the 10% of them. As an everywhere. But, I hope the support fixes this.
Our visitors responded to this:
Date:[2016-11-07 16:17:16] Voted:[5]
Yes, costumer service really excellent. While their guarantee that you'll find your person (or your potential person, at least) in half a year is comforting, I'm just happy with the fact that "From Russia wiht bride" can reassure you that no, all of the good people in the world are not taken, and there truly are plenty of fish in the sea. Well done, Brides-from RU. Well done. You'd think it would be old fashioned and lame as it's one of the longest sites on the market, but I'm here to say that it's the complete opposite. I was super impressed by the whole experience.

---
You can help us create a White List and a Black List of online dating agencies!
Unlike other Rusian antiscam sites we give individuals and agencies listed on our website a chance to dispute their placement here. You can add your rebuttal to any posting about you or any other profiles. You are also welcome to contact us and dispute any posting. We will require some proof in order to remove a posting.