Online dating agency description: You are welcome to marriage agency LadyFromBelarus. We have been working successfully in the field of matchmaking since 1998, helping single Belarusian ladies and foreign men to meet each other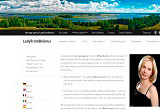 They hide the address?
We know they are from:str.Kuibisheva 38/1, Minsk, Minskaya reg., 220068. Country:Belarus
Do they hide the contact phone number?
+375296741644
Our users have indicated their status is:
BlackList
On our Data Base from:
2016-11-29
Rating:
Rated:0 Votes:0
Our users reported:
I am from Sweden. So it does not successfully developed, that all the women on this site are a fraud. They are asking for gifts, asking them to send money to Visa, for documents, for the treatment of their mothers. When I come to meet them. They do not come.
Our visitors responded to this:

---
You can help us create a White List and a Black List of online dating agencies!
Unlike other Rusian antiscam sites we give individuals and agencies listed on our website a chance to dispute their placement here. You can add your rebuttal to any posting about you or any other profiles. You are also welcome to contact us and dispute any posting. We will require some proof in order to remove a posting.