Online dating agency description: TopLop is a dating site that is an easy and quick way to meet mail order brides from Russia, Ukraine and other USSR offering thousands sexy photos of beautiful single mail order brides.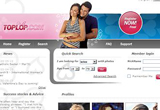 They hide the address?
We know they are from:Address, TopLop, State, ZIP. Country:Country
Do they hide the contact phone number?
Phone
Our users have indicated their status is:
BlackList
On our Data Base from:
2012-11-28
Rating:
Rated:0 Votes:0
Our users reported:
None of the woman are able to connect by email and all use the same excuses. As well if they do they write once just to build up trust but are very insitant on using the web site saying they cannot speak english or have no internet. They all avoid answering any questions that are direct about meeting, dates, when they may be willing to talk by skype or phone. You get a consistent number of winks and emails all at the same time of day and even the letters sound the same. As well photos of several of the woman show up on many other web sites.I believe it is a pure money making scam because you must pay to read or send emails.Only one woman was able to talk by skype and I have the feeling she is one of the web site staff or owners since after talking for a short time became very blunt, uninterested and turned of the cam and stopped talking. When I emailed her back on the web site she didn't reply.Other reports I have rad on the internet when I searched about their site were very similar experiences and no men had ever met, had direct contact and any that went there then said they were in the country got stood up. A good place to waste a lot of time, bombard your email with tons of emails from there and also start to receive a lot of spam emails shortly after jinng from all kind of dating sites about dating Russian and Ukrainian women. Should be totally avoided and I can beat no one on that site ever meets anyone.
Our visitors responded to this:

---
You can help us create a White List and a Black List of online dating agencies!
Unlike other Rusian antiscam sites we give individuals and agencies listed on our website a chance to dispute their placement here. You can add your rebuttal to any posting about you or any other profiles. You are also welcome to contact us and dispute any posting. We will require some proof in order to remove a posting.