Online dating agency description: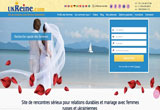 They hide the address?
We know they are from:13 Chernishevskaya b800, Kharkov, , 61000. Country:Ukraine
Do they hide the contact phone number?
+380936861131
Our users have indicated their status is:
BlackList
On our Data Base from:
2018-03-11
Rating:
Rated:5 Votes:1
Our users reported:
I would like to explain my experience with this agency. I found this agency and I decided to contact them. I communicated with a lady Olessya from Dnepopetrovsk via letters.I pay for credits and I thought that I communicated direct with her but it was not true. I decided to met her in Kiev. Our meeting was horrible.She is a real scammer.She only wanted to buy clothes for her and also for daughter.Completly different person with whom I communicated.Of course she was not the person with I wrote letters. Agency lied me and she is a scammer. Be careful with this agency!! Do not make same mistake tha me.
Our visitors responded to this:

---
You can help us create a White List and a Black List of online dating agencies!
Unlike other Rusian antiscam sites we give individuals and agencies listed on our website a chance to dispute their placement here. You can add your rebuttal to any posting about you or any other profiles. You are also welcome to contact us and dispute any posting. We will require some proof in order to remove a posting.